Well it's that time of year again
i have gone to most of these shows ever since i was kid. And they put on a great show.
perhaps this time i will remember to take my camera
Or perhaps i can enter my little beast for best jap/rat


nar just fu#king wit ya i would not stand a chance

Hey walka are you going this year with your VPW bobber ????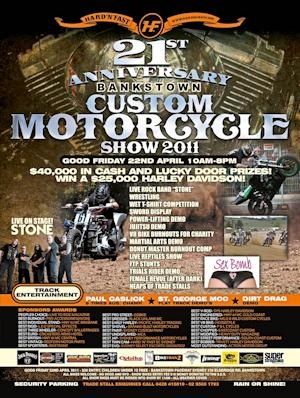 all the info off there web page
http://www.hardnfast.com/motorcycle-show/bankstown.html
The 21st Annual Bankstown Custom Motorcycle Show will be held on 22 April 2011. Brought to you by Hard 'n' Fast promotions and Highway 61 MC, this will be the 21st successful year of what is one of the best and safest motorcycle shows in Australia.

$40,000 in cash and prizes is up for grabs, including lucky door prizes.


2011 Prizes
1st prize: A Harley-Davidson to the value of $25,000
2nd prize of a $1000 gift voucher from Sys Harley-Davidson
3rd prize of a $500 gift voucher from Sys Harley-Davidson



2011 Entertainment

On the track:
TW Outlaw sidecar demos
Paul Caslick ( 9 times Australiian Champion )
St George MCC flat track demo
Dirt Drag Demo

Other show entertainment:
Live Rock band "Stone"
Wrestling
Wet T-shirt comp
Sword display
Power-lifting Demo
Jujitsu Demo
V8 motorcycle Burnouts for Charity
Martial Arts demo
Donut Master Burnout Comp
Live Reptile Show
FTP Stunts.com
Trials Rider Demo
HEAPS of trade stalls
Security Parking
All weather cover - rain, hail all shine - all good!
Female Review (after dark)



2011 Motorcycle Show Trophies

Category | Sponsor
People's Choice | Live To Ride Magazine
Best Burnout | Pro Accessories (Avon)
Best Individual Stand | Hwy 61 MC Brisbane
Best Rigid |L.E.D Special Effects
Best Three Wheeler | Concept Balustrades
Best Euro | Cricketers Arms Hotel
Best British | Hwy 61 MC Central
Best Vintage | Redfern Motor Parts
Best Sportster | Biketranz
Best Pro Street | Ozbike
Best Dresser | Black Uhlans MC
Best Early Harley | Pacific Harley Trading
Best Shovel | Branko Built Motorcycles
Best Paint | Sydney Custom Paint
Best Undisplayed | MCA
Best Jap | Sydney Performance Motorcycles
Best Twin Cam | Hard 'n' Fast SC Sydney
Best Evo | Sydney Select Escorts 1300367322
Best V-Rod | Sys Harley Davidson
Best Engineered | Hwy 61 MC Gold Coast
Best Race Bike | Mild & Wild Custom Cycles
Best V8 Bike | Hossstyle
Best Custom | P & L Cycles
Best Chopper | Eastcoast Custom
Best Modified | Heavy Duty Magazine
Best Street Performance | South Coast Custom
Best Bobber | Trivett Harley Davidson
Most Outstanding | Action Motor Group


The Nitty Gritty:


Where: Bankstown Paceway 178 Eldridge Road Bankstown NSW Australia
Cost: Admission to the show is $30.00 (children under 12 free)
Bike show: All bikes are welcome to enter the show for a fee of $10 which is 100% donated to the SES (enter your bike in the show by 11am please)
Miscellaneous:
- No dogs or BYO
- Trade stall enquiries: 0428 415 819 or 02 9565 1793
- Bike raffle drawn at 6pm